#1 Greatest Obstacle to Closing More Sales
Every company is constantly questioning and researching why their salespeople don't close more deals. They ask themselves all the big questions as they strive to improve their results. What skills are we lacking? Where does our process go wrong? Well, maybe the mistake costing you sales is a far simpler fix than implementing massive changes to your people and process.
The good news is that recent data reveals the mistake hampering sales is likely a far simpler fix than implementing massive changes to your people and process. Read on we'll reveal the missing piece that it really is.
The following graph provides data regarding the
crucial competency to closing sales
:
reaching the decision maker
. As you'll see, 100% of salespeople
believe
that they are utilizing their selling skills to reach the decision maker. However, the
data indicates the discrepancy
between intention and execution as only
10% of salespeople personally believe they actually meet with the true decision maker.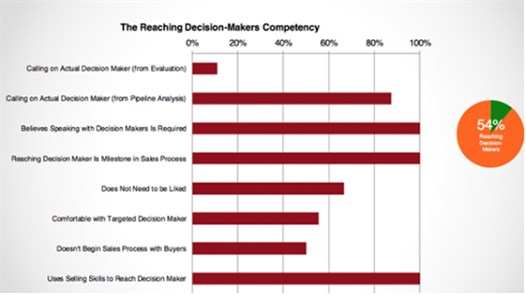 With this, we know that every salesperson considers reaching the decision maker an important milestone within their pipeline, however with
only 10% of salespeople accomplishing this step
, the issue at hand becomes clear; your average sales organization struggles to consistently reach the truly legitimate decision maker!
So, don't allow your salesforce to simply rely on their intentions, skills, and pipeline. This complacency will cost you! All it takes is some training from a sales expert with mastery of the nuances of how these pieces all come together. If your salespeople can reach even just 25% more decision makers, imagine the impact that will have on your revenue.
Click on the following link to evaluate and compare your salespeople to find out whether or not they are missing this competency.
http://stats.objectivemanagement.com/319